CANCELLED: SAC-300: Adv Jewelry -- Rosette / Camellia Flower Pendant
What You'll Learn
This class is for the jewelry maker or anyone interested in layered sculpture. Students will learn various soldering methods to add layers to their projects, as well as basic forging methods to create small sculptural pieces. You will be making a rosette or camellia pendant at end of class.
Take this class to hone your soldering skills and learn the nuances of working with fine metal without melting it. Students will learn advanced soldering skill sets and understanding the different melting points for copper and sterling silver. In addition, students will be able to analyze balance and proportion to pendants or pendulums and have a better understanding with the physics of jewelry.
Design and Fabricate a Rose Pendant
Soldering Techniques
Forging Techniques
Layering Techniques
Properties of Metals
Skills
Soldering
Metal Fabrication
Important Information
Pre-requisite: You must have taken the Hacker Lab "Intermediate Soldering/ Jewelry Fabrication Class" or have equivalent experience.
Children aged 14-17 are welcome to attend with a parent present.
Materials fee: $6 for Copper; $25 for Silver. Please plan to pay the teacher for your kit at the class. Cash preferred.
About The Instructor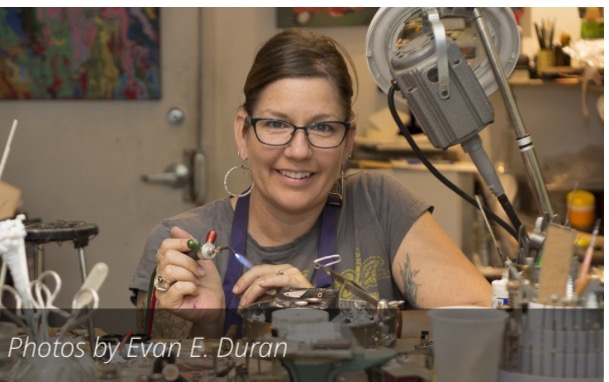 Susan Lynette Sipe Rabinovitz
The circus in my head is fueled by my passion for metal manipulation, jewelry making and an almost unhealthy obsession with pre-cubist-painters. The festival of fire and hammers started as a youngster and was cultivated into my collegiate years while creating artisan earrings for a major department store. Fast forward to the here and now, combining my corporate experience, over 1000 hours logged with international Master Jewelers and earning my Masters / Graduate Jewelry Arts degree via The Revere Academy, San Francisco, CA, my dream became a reality with my brick and mortar, Little Relics, Inc. (Midtown, Sacramento). My passion is my daily practice. My drive for amazing craftsmanship, my experience and love for creating wearable art has created a very successful custom jewelry and repair business. Utilizing 14th Century goldsmith techniques and the time honored tradition to share knowledge, students and my apprentices are a part of my bench jeweler journey. I look forward to meeting the next generation of Jewelry Makers and enthusiasts.